Izumiya, taste innovation from
Nagasaki
At Izumiya, we develop, manufacture and sell a lineup of renowned local food products from Nagasaki, including castella sponge cakes and champon noodles.
Castella, one of Nagasaki's most popular products, are sweet golden cakes with a fluffy and moist texture. Originally brought to Nagasaki in the 16th century by Portuguese merchants, over the years the taste of this cake gradually changed to suit Japanese tastes.
Champon is a famous Nagasaki noodle dish with a generous topping of seafood and vegetables.

At Izumiya, we constantly strive to promote the unique flavors of Nagasaki to as many people as possible, pursuing great-tasting products that people will continue to love for generations to come.
Beginning with our flagship castella, each of which is lovingly baked to perfection, we are constantly on the lookout for new taste sensations. For example, we have developed a line of castella sweets that merge a variety of flavors with traditional Nagasaki castella.

For the authentic taste of Nagasaki, please try Izumiya's delicious range of products.
Our commitment to castella quality

Our castella, baked by master chefs using only fresh eggs, contains no leavening agent, colorings or preservatives.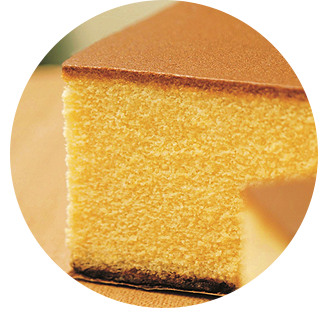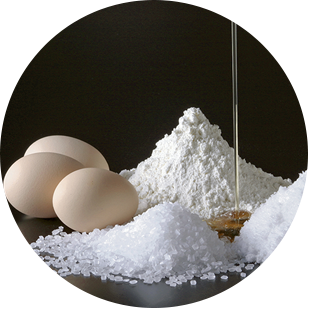 We use select eggs to make our castella extra fluffy, and go the extra mile to deliver a rich sweetness beyond compare.

Eggs are the most important ingredient in castella, as they give the cakes a fluffy texture and beautiful color. Because of this, we use only select eggs from a contract poultry farm located in the verdant natural surroundings of Nagasaki's Unzen region.
We use four other choice ingredients to give our castella their rich sweetness: caster sugar, high quality mizuame syrup, pure honey, and coarse sugar.

Sophisticated skills and passion of our master chefs

The ingredients and preparation methods for castella are very simple, which is why the skills of the chef play a large part in determining the quality of the finished product. Izumiya's fluffy and smooth castella can only be the work of seasoned professionals blessed with refined techniques and sensibilities. Only our chefs can deliver the unrivalled taste of Izumiya's castella.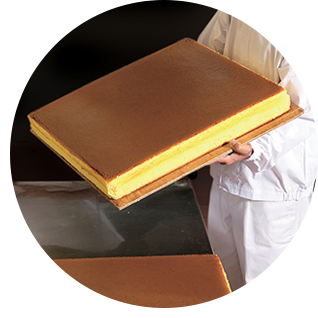 Recommended products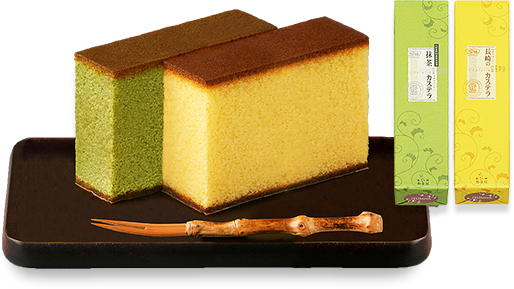 The real taste of Nagasaki tradition
Nagasaki Castella
Fluffy texture and smooth taste
Izumiya's Nagasaki Castella, a perfect blend of delicate sweetness, rich flavor, fluffy texture, and mouthwateringly beautiful color. For our green tea flavor, we use 100% Japanese green tea.
What makes Nagasaki Castella special?
Coarse sugar, the hidden key to great-tasting castella

Crunchy and sweet coarse sugar is an essential ingredient that brings out the best in freshly-baked castella. This dissolves over time, soaking into the sponge cake and helping keep it moist.

Select eggs

Fresh eggs from the verdant foothills of Mt. Unzen are what give Izumiya's castella its fluffy texture and attractive color.
A delectable culinary masterpiece
Gosanyaki Castella
Gosanyaki Castella is our premium brand of castella, using more egg yolks than usual and baked to be extra moist with a rich sweetness.
This is the pinnacle of Nagasaki castella, one that only a select few experienced chefs are capable of baking.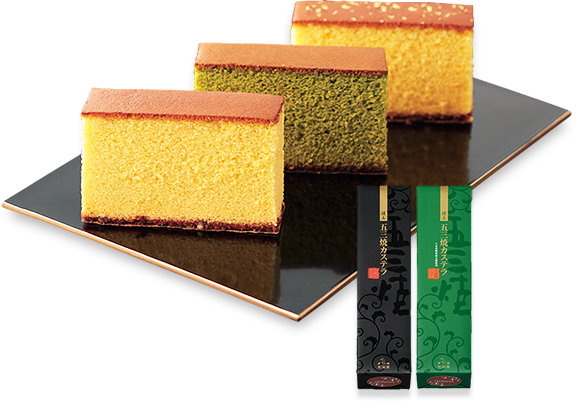 What makes Gosanyaki Castella special?
There are several theories regarding the origin of the name "Gosanyaki." One is that the ratio of egg yolk and egg whites was 5:3 (in Japanese, "go" is the number five and "san" the number three). Another is that it gained this name from a family crest called "Gosan no Kiri" (53 Paulownias), as it was given to people in a paulownia box on special occasions.
Gosanyaki Castella, for an added touch of luxury
Special eggs used only for Gosanyaki Castella

When it comes to Gosanyaki Castella, we only use the very finest eggs from specially-fed chickens on a contract poultry farm located in the verdant natural surroundings of Nagasaki's Unzen region. These eggs are renowned for their extra richness and deep color.

Beautiful golden yellow

A rich castella made with extra special egg yolks. The beautiful golden yellow of Gosanyaki Castella is the result of meticulous baking using only the finest of ingredients.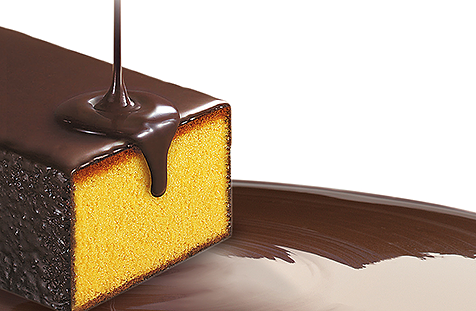 At the forefront of castella sweets
Nagasaki Chocolate Castella
An innovative castella sweet
A deliciously innovative castella sweet, with fluffy and moist Gosanyaki Castella wrapped in velvety semi-sweet chocolate. Other varieties include bitter chocolate, creamy white chocolate, and fruit chocolate.
What makes Nagasaki Chocolate Castella special?
Use of carefully-selected chocolate

We chose the chocolate for this product through a meticulous process of trial and error.
We finally settled for a chocolate that was a perfect match for castella, one that melts in the mouth with every bite.

Gosanyaki Castella base

Extra rich and sweet Gosanyaki Castella forms the base of Nagasaki Chocolate Castella.
This magnificent pairing results in a truly exquisite treat.
A rare crunchy castella
Castella Rusks
A crunchy but delicately rich taste
We baked traditional Nagasaki castella into crunchy rusks. We took this different approach to castella to provide an enjoyable crispy treat.

What makes Castella Rusks special?
Use of a precious variety of sugar

For this product, we use a precious variety of sugar called awa-wasanbonto, which is produced in Tokushima Prefecture using traditional raw materials and methods.

Meticulous production method

We cut castella specially baked for making rusks and bake them again to give them a crispy texture. For "Koisuru Rusks," we go even further by coating them in chocolate.

Store/factory information
Nagasaki

Izumiya map
Nagasaki Castella Land

(at Aino Observatory)

【Address】

5864 Otsu, Aino-machi, Unzen City,
Nagasaki 854-0302

【Hours】




Shop 8:30 am-5:30 pm
Restaurant 11:00 am-3:00 pm
Take-out 9:00 am-4:30 pm

【Closed】

Open 365 days a year

【TEL】

+81-957-36-2000

Izumiya Main Store

(on Bernard Tourist Street)

【Address】

4-16 Yorozuya-machi, Nagasaki City,
Nagasaki 850-0852

【Hours】

9:30 am-7:30 pm

【Closed】

New Year's Day

【TEL】

+81-95-820-0080

Izumiya Hamano-machi

(in Hamano-machi Arcade)

【Address】

10-6 Hamano-machi, Nagasaki City,
Nagasaki 850-0853

【Hours】

9:30 am-7:30 pm

【Closed】

New Year's Day

【TEL】

+81-95-825-5501

Izumiya Oura Church

(near Glover Garden)

【Address】

9-8 Aioi-machi, Nagasaki City,
Nagasaki 850-0922

【Hours】

9:30 am-7:30 pm

Open 365 days a year

【TEL】

+81-95-820-0030

Oranda Bussankan

(near Glover Garden)

【Address】

9-8 Aioi-machi, Nagasaki City,
Nagasaki 850-0922

【Hours】

8:30 am-7:30 pm (Jul. & Aug. and Jan.-Mar. 9:00 am -5:30 pm)

Open 365 days a year

【TEL】

+81-95-820-5511

Izumiya Peace Park

(in front of the Peace Park)

【Address】

7-23 Oka-machi, Nagasaki City,
Nagasaki 852-8115

【Hours】

8:30 am-5:30 pm

Open 365 days a year

【TEL】

+81-95-842-2000

Izumiya Sasebo Daito Interchange

(near Huis Ten Bosch)

【Address】

1 Sashikata-cho, Sasebo City,
Nagasaki 859-3242

【Hours】

8:30 am-5:30 pm

Open 365 days a year

【TEL】

+81-956-58-4000

Izumiya Nagasaki Airport

【Address】

2nd floor, Nagasaki Airport Bldg.,
593 Mishima-machi, Omura City,
Nagasaki 856-0816,

【Hours】

6:45 am-8:30 pm

【Closed】

Open 365 days a year

【TEL】

+81-957-50-2710

【FAX】

+81-957-50-2710
Other places where you can purchase our products

Souvenir shops in Nagasaki Airport, Nagasaki Station, Narita International Airport, Haneda Airport, etc.